Every month or two, we sit down with a member for a quick talk about their company, a specific project, their ambitions or hope for the future. This month we spoke to Juha Lintujärvi, MD, from Watman Engineering.
WatMan is one of the leading suppliers of tailor-made water treatment equipment and plants in Finland. Since its establishment in 1995, the company's primary focus has been to develop, produce and deliver high-quality, innovative water treatment products that will help the customer gain something extra.
Juha came to the company in 2009 when it was already well-established in the Finnish market.
"Today WatMan consists of 15 dedicated people, and since 2009 the company has been based in Lahti, Finland. Our proudest expertise is seawater desalination technologies, ie. how to remove salt from water. For more than ten years, we've been at the forefront of developing new desalinated sources, and we are still eager to learn and grow."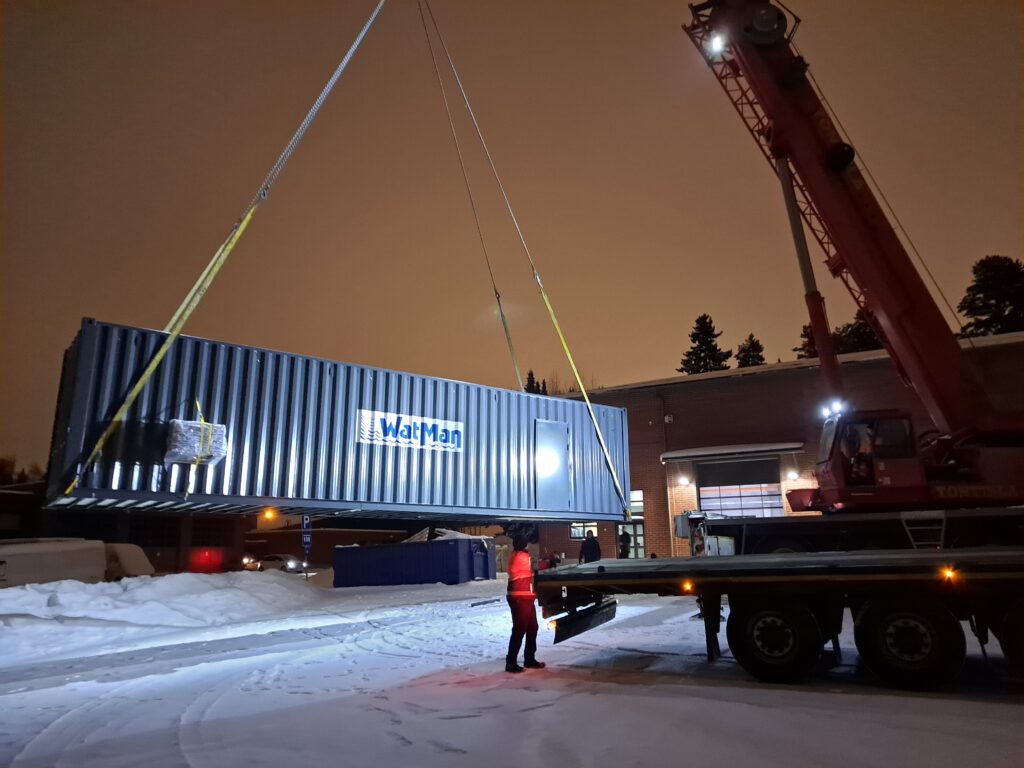 Watman is a versatile supplier of water and wastewater treatment and water recycling projects and has grown steadily since 1995. The company has a slightly different focus than other members at River Group. Why did they decide to join us?
"Watman is fully owned by Pumppulohja. Oy Pumppulohja Ab joined the Lakers family in 2019 as a perfect fit for the company portfolio. Almost every member works with pumps and pump services in River Group, but WatMan works solely on water treatment, with industrial-scale customers and big units. For that reason, I believe we're the odd one out, which is very exciting for the company's future."
River Group consists of companies across the Nordic countries – it's inspiring to think about all the possibilities and future projects. This synergy creates a bigger market for all the members.
Better Together!
Juha tells us he firmly believes in the value of creating synergies throughout River Group by combining products or markets – two companies combined are greater than the sum of the separate individual parts.
"Being part of River Group, we generate more revenues than we can produce independently, and both the company and the customers benefit greatly.
River Group consists of companies across the Nordic countries – it's inspiring to think about all the possibilities and future projects. This synergy creates a bigger market for all the members."
WatMan's business strategy is to design every installation case by case. Juha tells us they see every customer and challenge as unique.
"Our mission is constant improvement, and we always want to deliver the best possible solution. Our solutions are always custom-made. We design the process and then the system through workshops and pilot projects.
We don't have any ready-made products – the customer tells us their problem, and we solve it, hopefully by being part of the process from start to finish. We strive to create "lifetime solutions", and we want to be a longtime partner for every customer."
In the article Tap the Opportunity, Daniel Larsson,  previous owner and MD of Miva Montage talks about the project you worked on for Lindesberg Hospital in Sweden. How did this collaboration begin?
"In Sweden, every hospital has to secure its water supply, even if there are no pre-existing problems with the water supply they usually use. Every Swedish hospital needs a "backup water system".
Lindesberg Hospital did have a well, but the water had too much iron and manganese. This problem is widespread in Finnish groundwater, and we have a lot of experience in this matter. Somebody informed Miva Montage about this, and they contacted us."
WatMan designed the process, the filters, the pumping stations and the instruments. When the customer accepted the process and the products, Watman started working on the installations in their workshop.
"In this case, Miva was responsible for the automation and electricity; we only gave them instructions. We would generally go ourselves, but we had to work remotely with Miva's engineer because of the pandemic. It was new and unusual for us, but it was a success for us and Miva Montage – a genuinely great collaboration."
Finally, what are your and WatMan's future ambitions?
"Working with other River Group members would be a dream – It's nice to keep everything inside the group.
It's always a significant advantage to have a local partner who knows and understands the local conditions, environment and culture. The project and challenges are often the same in Nordic countries, but it's never easy for a small company to go to a different market, talk in a foreign language, and convince customers to choose them. It's much easier when we have a partner who knows us, the customer, the people and the local culture."